Storytelling built for the pace of today's news cycle
Live Story delivers immediate updates to multiple storylines simultaneously. It surfaces the scope and speed of CNN's coverage of breaking news around the world, notifying users of updates as they happen and allowing them to switch between events seamlessly and effortlessly.
Since launch, Live Story has elevated CNN's ability to deliver news as it unfolds, across many stories at once, to millions of users daily.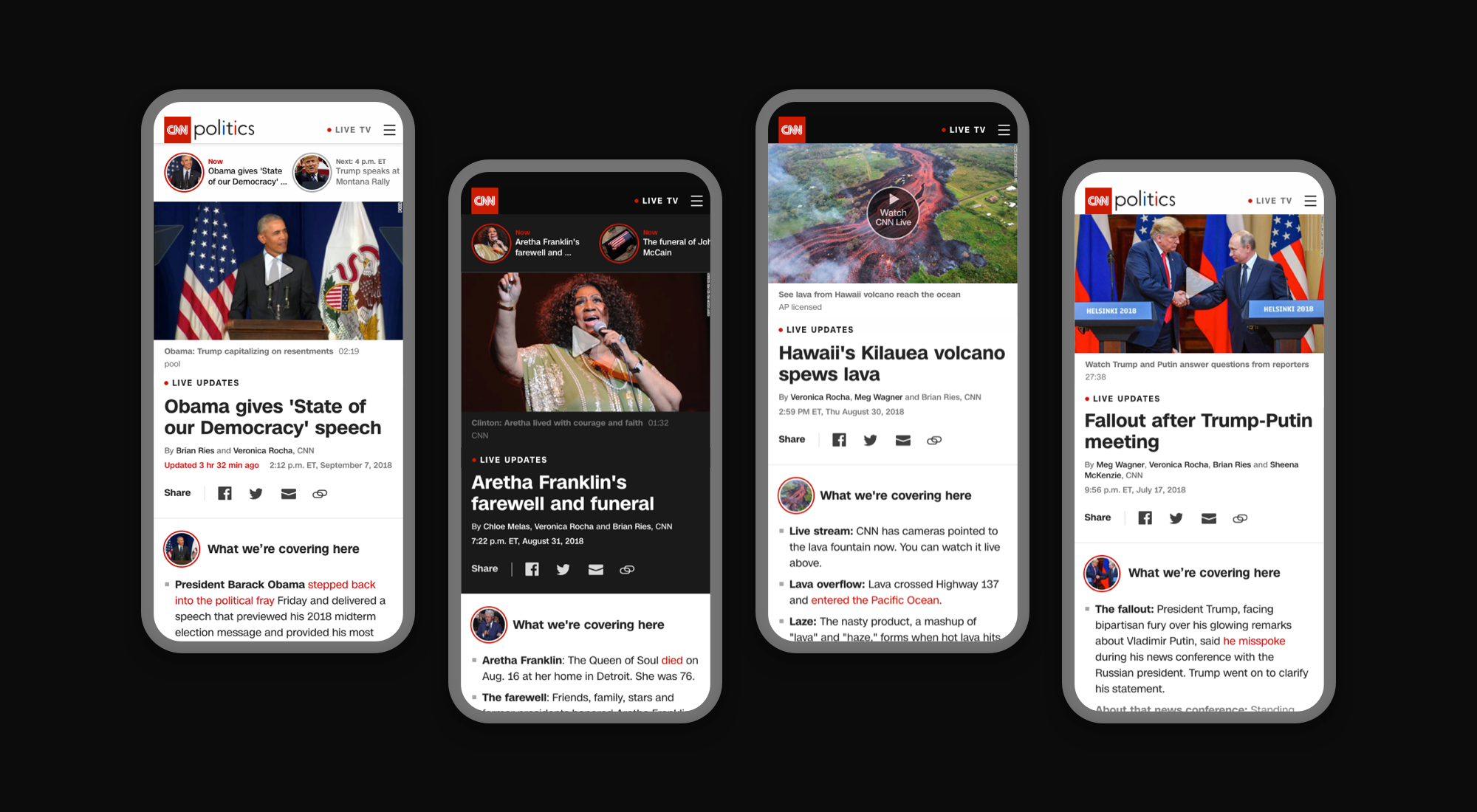 Immediate clarity and context
The aim of Live Story is to give users context to news as it's unfolding. A dedicated catch up module highlights what CNN knows as soon as editors confirm it. Live video, latest updates, links to articles and relevant social media posts combine for a single destination for users to stay informed. Visual hierarchy is clear and the design allows the content to take center stage.
Editorial precision and app-like engagement on the web
Initial UX explorations tested new ways of packaging content and updates to provide at-a-glance clarity. Interaction design focused on making the experience feel both dynamic and frictionless - more like a native app than a mobile web experience.
Scale to meet new business demands
Live Story has grown to serve multiple storylines across the CNN Digital family of products every day. In addition to breaking news, daily topical live stories provide the latest Politics and Business news to our audiences in a convenient feed-based destination.
From a single destination to a robust user journey
The team continues to explore new ways to build user engagement with Live Story. Text and email alerts, sharable widgets, and integration with other products will build on the initial success of the product and provide even more convenience and context to our audiences.